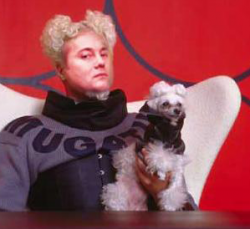 Fueled by wannabe entrepreneurs and loose VCs, Web 2.0 saw its fair share of dumb startups in 2007. Before we look forward to the entirely useless startups that will inevitably launch in 2008, it's worthwhile to remember and appreciate the Dumbest Startups of 2007. To qualify as a Dumb Startup of 2007 by Drama 2.0, you merely had to receive some mention on Mashable.
23andMe
While it's technically not a Web 2.0 startup, the "web-based service that helps you read and understand your DNA" is the creation of Google co-founder Sergey Brin's wife and has received funding from Google so it's fair game. For $999, you can learn more about who you are via the wonders of genetic science. For those who think that spending that type of money while giving up ownership of your saliva is not a winning proposition, Drama 2.0, at no cost, can advise you that the results of your 23andMe analysis would not have been promising anyway: you will one day die.
BarCardz
To add somebody as a friend on this closed social network, you need to either give somebody a card or receive a card from somebody. Personally, if I was handed such a BarCard, especially in a place like a bar, I'd shake my head and walk away. I can only assume that BarCardz was founded by an entrepreneur who doesn't hit the town much.
BurnLounge
If it looks like a pyramid scheme and smells like a pyramid scheme, it probably is a pyramid scheme. And of course, that means it ends like a pyramid scheme.
Capazoo
While Canadian social network Capazoo might not have the dumbest concept of the year (a social network with an internal economy), the fact that the company issued a press release offering to help Lindsay Lohan and has apparently retained a PR firm that shills blatantly on blogs makes Capazoo a viable contender for Dumbest Startup of 2007.
ChaCha
This search engine enables you to command underpaid humans to do your Googling for you. While the company's model is clearly not going to lead to success in the search space, ChaCha just might work as an online entertainment play. I had fun trying out the service (as you can see here and here) but the novelty does wear off quite quickly.
ChoreWars
An online chore management tool that resembles a MMORPG, ChoreWars probably appeals to the type of person who thinks trash is an alternative to carpeting, lives on a Super Size Me diet, hasn't bathed in three weeks and believes that 12 hours of daily World of Warcraft usage represents a real social life. That is, the odds that the people ChoreWars might appeal to actually have the ability to do something productive are about as high as Jamie Lynn Spears staying abstinent until the age of 18.
Clipperz
A web-based tool that enables you to store your passwords, PIN numbers and other sensitive information in one place and to share them with others if desired? If you don't see the potential problem with this, you probably deserve to have your identity stolen. Who knows - perhaps you'll get lucky and someone with a little more intelligence will assume it.
Dig a Silicon Valley Girl
A website that allows visitors to "digg" Silicon Valley's best-looking women? It might have worked if only there were hordes of attractive women to "digg" in Silicon Valley in the first place.
Extravigator
Billed as an "elite" place "where sophisticated travelers go to discuss first class experiences," Extravigator's founders clearly didn't recognize that travelers with discriminating taste (like Drama 2.0) not only don't need a website to find "stylish and exotic destinations," but we have better things to do than post about our experiences online. The name of this startup leaves no doubt that the creators are not members of the target market they aim to serve.


FatDoor
FatDoor wants to create a social network for neighborhoods. I have an idea: if you want to "get to know your neighbors," perhaps it'd be easier to get off the computer and introduce yourself to them in person? It seems simple, but there must be something I'm missing.
InterviewUp
Get ready for your job interview with InterviewUp, a community where members can share interview questions and answers. Personally, I think InterviewUp is unnecessary and overcomplicates job interview preparations. The advice I'd give anybody preparing to be interviewed by me is applicable to most job interviews. If you're a woman, wear an outfit that reveals your cleavage and legs, smile a lot, laugh at my jokes and let me know that you're willing to go the "extra mile" to "get the job done." If you're a man, wear a suit, laugh at my jokes, tell me how insightful and helpful my feedback has been and let me know that you're willing to cover for me when I take a sexy co-worker out for a long lunch.
IZEA (formerly Pay Per Post)
Since I rarely find the time to write positive things, until IZEA provides an easy way for companies to pay me not to write about them, I will never support such a despicable and unethical startup.
Justin.tv
When it launched, Justin.tv enabled Internet users to follow a Yale graduate with no personality who founded failed startup Kiko (Justin Kan of course) around as he and his boring, nerdy friends engaged in boring, nerdy activities. The company has since evolved into a platform provider that enables other boring, nerdy people with too much free time and no mainstream appeal to broadcast their lives to a non-existent audience.
ListenToYourWife
A place for wives to rant amongst each other? On the surface it might seem like this is better than having your wife rant at you, but rest assured that this service will only make things worse. The world needs less nagging, not more, thank you very much. Encouraging this behavior is nothing less than a crime against humanity.
Mahalo
The infamous Jason Calacanis runs a startup that bills itself as the "world's first human-powered search engine." Given that Calacanis was around during Bubble 1.0, I can only assume that he either has Alzheimer's and has forgotten that Yahoo at one time was human-powered or he simply doesn't care about making dumb claims. While I suspect it's likely the latter, whatever the case may be, I think Mahalo is a "solution" looking for a problem and the annoying Mahalo Daily video podcast should make the investors who funded Mahalo cringe. The first time I saw it I actually felt nauseous.
MizPee
The idea of making it easy to locate the nearest bathroom is not entirely horrible, especially if, like Steve Jobs, you have irritable bowel syndrome. But rating public bathrooms? When the "wisdom of the crowd" is applied to
determining the best place to drop a load, I start to worry. By the way, do not use the bathroom at the IHOP in Barstow, California. I stopped there on the way back from a weekend in Vegas and am pretty sure that the rash I got on my left buttock was picked up at this facility, although I cannot be 100% sure since I don't entirely remember the facilities I used in Vegas.
MyCampFriends
While I didn't plan on paying attention to any of the dumb niche MySpace clones that launched in 2007,
MyCampFriends ("Where Summer Never Ends") stands out and deserves a spot on the Dumbest Startups of 2007 list. Summer camps are horrible and glorifying them with an online social network is just not appropriate. After all, summer camp is either the place where you get wedgies on a daily basis or where you have a short-lived fling that somebody is likely to be teased about at school.
OnMyList
If you've ever wanted to make a list and share it with others but never had the ability, OnMyList is probably the greatest thing since sliced bread. For the majority of the population, however, OnMyList is probably about as necessary as a solid gold nose hair trimmer.
Socializr
I get tears in my eyes whenever I see a man who made a colossal mistake that cost him a lot of money trying to make a comeback with an uninspiring product that has little differentiation from its already-successful competitors. No doubt his purchase of a bar in San Francisco is related to the unbearable daily misery that comes along with having passed up all that pre-IPO Google stock.
The Drama 2.0 Show
Just what the Internet needs: another blog written by some smug, arrogant jerk.
Zivity
Some might expect Drama 2.0 to support a startup that describes itself as "reality media platform for sexy models and beautiful photography." But Zivity doesn't really do anything creative in this space and it's the opinion of this blogger that Zivity is little more than a ploy to meet models. After all, geeky founder Scott Banister, who sold his previous company IronPort Systems to Cisco, probably has access to more money than he does access to beautiful women. Suggestion for Scott: be careful what you wish for because you have no idea what you're getting into. Please leave models to us professionals.
The startups above stand out as the dumbest of 2007, but by no means do these represent all the dumb startups that made their debut last year. After all, to mash up a George Carlin observation, "Startups are a lot like people: a few winners, a whole lot of losers." I personally expect 2008's crop of startups to be even dumb and dumbr.